Introduction
Representation in British broadcast media has long received intense scrutiny in its quest to reflect the social characteristics of an increasingly diverse audience, emphasized by then-BBC director-general Greg Dyke's infamous comment that his organization's staff was 'hideously white' (The Guardian, 2001). Such attention to this contemporary issue of media remains salient due to the extent to which the make-up of television shapes mass perception of social reality. Scholars present the effects of television at a cognitive level as 'those that are envisaged to influence and shape individuals' beliefs and opinions about the world around them' (Gunter, 1994: 183). As such, the identity of UK newsreaders is exemplary of representation issues in television as a consequence of the 'trust' between news broadcasters and audiences to relay information of public relevance fairly (Mac Coille, 2014: 34). This paper examines whether the gender and ethnicity of BBC newsreaders is subsidiary to our formation of social constructs through the lens of media monitoring and media effects. Research is presented alongside a quantitative study of the representation of BBC newsreaders in 2002 and 2022, which provides evidence of the demonstrable role of newsreaders' appearances to media effects in society. In the first section, the report discusses the findings of the study in relation to media monitoring. The second section then analyses the relevance of this data to the evaluation of media effects, including an examination of the BBC's 50:50 Equality Project. Finally, a brief review of scholarly counterarguments to the importance of representation in news presenting as an effect of media is introduced.
Section 1: Study findings
In order to investigate the 'constantly evolving' representation in media (Tukachinsky, 2015: 187), methods of media monitoring were applied to the BBC News channel and other prime-time BBC news broadcasts such as BBC Breakfast and BBC News at Ten. The public service broadcaster, which was watched by 80% of UK adults weekly between 2017 and 2018 (BBC, 2021), is 'an organization that officially steers firmly away from attempting to convey some manner of uniform British identity' (Tollerton, 2015: 123). Upon evaluating this aim, the identities of the BBC's newsreaders, in gender and ethnicity, should be considered as having 'critical consequences for intergroup relationships and for marginalized group members' self-concept' (Tukachinsky, 2015: 186) due to the broadcaster's standing in British media consumption. With focus on 21st century trends which roughly coincide with the 'hideously white' remark, the gender and ethnicity of BBC newsreaders in 2002 and 2022 was recorded. In 2002, the BBC employed a total of 23 newsreaders, including relief presenters, across the BBC News channel and BBC Breakfast, BBC News at Ten, BBC News at Six and BBC News at One programmes (BBC, 2002). 52% of newsreaders were male, with 48% female. A majority (87%) of the BBC's news presenters were white, counting only three newsreaders of colour. Almost half (48%) of the presenting team were white females, however all of the women reading the news across the aforementioned BBC programmes were white. 39% of newsreaders were white males. There was only one black newsreader (of African-Caribbean heritage) listed – Darren Jordon, a second presenter of the BBC News at One. In comparison, data from 2022 shows some change in the BBC's composition of newsreaders, which now counts 37 members of staff employed as news readers on the same programmes (Wikipedia, 2022). There was a marked shift in gender, with 57% of presenters being female and 43% male. Nine of the 21 female newsreaders were of an ethnic minority. 70% of BBC newsreaders were white according to 2022 information, as less than a third (30%) were people of colour. The number of white male newsreaders remained almost exactly the same (38%), while a decrease of 16% was recorded in white female presenters. Thus, media monitoring can be considered as the assessment of progress made and necessity of future advancements. Gallagher (2001: 26) mentions that 'the ability of the general public to understand, critique and analyse media content has become critically important' to public reception of media and the independent formation of media monitoring. This study of representation in the BBC's news presenting shows that the organization has made efforts to detach itself from the primarily white ethnicity of newsreaders in 2002, although the current 70:30 split between white and ethnic minority presenters must also be noted.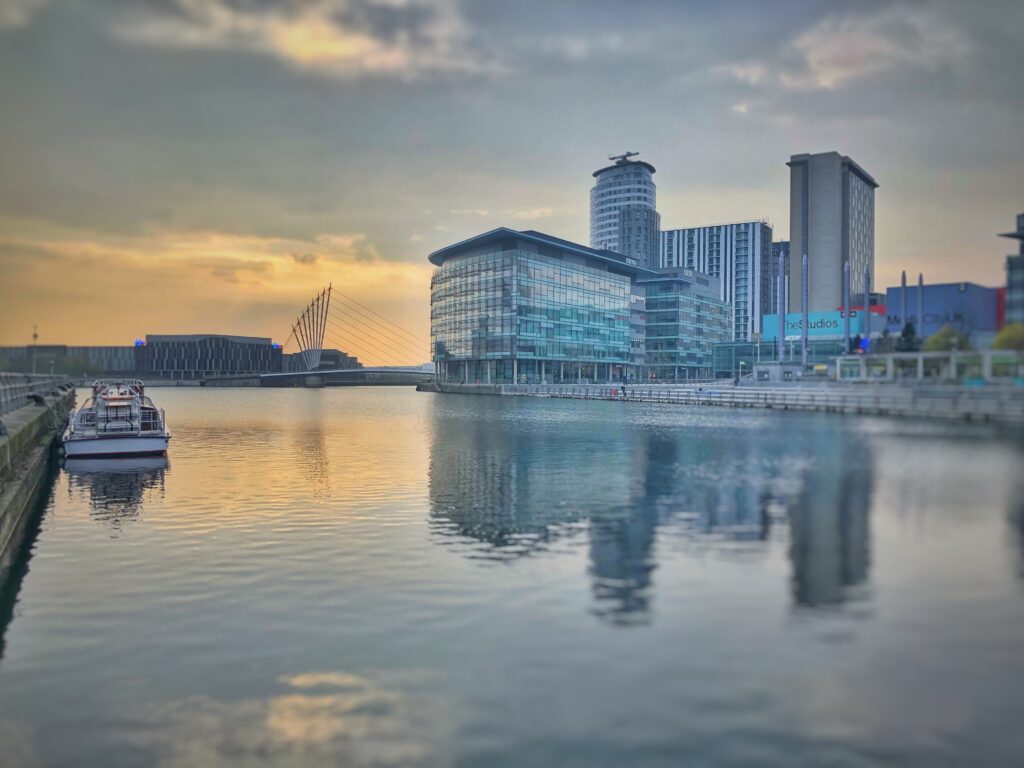 Section 2: Relevance of media monitoring studies to media effects
If media is now viewed as the primary distributor of information, and therefore shapes our 'reality' (de Certeau, 1984: 185), the prominence of certain genders or ethnicities in broadcast media assists in the formation of public opinion on the self and collective groups. Research conducted by Ofcom suggests that television remains the most popular platform of news consumption in the UK, while data from England and Wales ranks BBC One as the most used news source for 'accessing news about the nation' (Ofcom, 2021). This places the newsreader as the first point of call for television audiences in their gateway to acknowledging current events:
'"Be quiet," says the TV anchorman or the political representative. "These are the facts. Here are the data, the circumstances, etc. Therefore you must…" Narrated reality constantly tells us what must be believed and what must be done. What can you oppose to the facts? You can only give in, and obey what they "signify" …' (de Certeau, 1984: 186).
Consequently, the identity of those who communicate the most important matters to public discourse determines the way in which we receive information. Hence the newsreader is the conductor of social attitudes on the gender or ethnicity which they represent. If BBC News' output of news in 2002 was predominantly communicated by white newsreaders (89%), it follows that people of white ethnicity were more visible as figures of authority in the reading of news headlines to a diverse British audience. This theory furthers the case for the representation of newsreaders as a portrayal of the contemporary conditions of gender and ethnic equality in society to television viewers, outlining public opinion of the typical British newsreader as white. In this way, the fact that just three of 23 BBC newsreaders in 2002 were people of colour, none of whom were female, highlights the 'existing patterns of relegation on and off the screen' for minority groups (Tukachinsky, 2015: 186). This leads to a lack of visibility and devaluation of minority groups in prominent television presenting roles, a notion echoed by the BBC's director-general during his 'hideously white' interview: 'The figures we have at the moment suggest that quite a lot of people from different ethnic backgrounds that we do attract to the BBC, leave. Maybe they don't feel at home, maybe they don't feel welcome' (The Guardian, 2001). For Creeber (2004: 32), this indicated an admission of the 'dogmatic and ideological pursuit of "national unity"' which continues to rule structures of BBC representation. By employing a 23-person presenting team comprising of 20 white people, viewers of an ethnic minority background are not represented in prime-time BBC national news reporting. Therefore, the social importance of the BBC newsreader plays 'a crucial role in conceiving and cementing notions of "Britishness" (both at home and abroad), intent on constructing a deep sense of national consciousness and consensus' (Creeber, 2004: 29).
In his study of 'media violence', Gunter discusses the difficulty in identifying precise media effects on public behaviour and cognition (1994: 166). While positive changes in the make-up of BBC newsreaders are noted in my research of 2022 information, Ofcom data indicates that 85% of ethnic minority news consumers prefer internet news to television news (2021). Similar to Gunter's investigation, the effect of gender and ethnic representation in newsreaders upon the audience is largely impossible to define, although counting just two black newsreaders out of 37 across the BBC's main news programmes is indicative of failed efforts to diversify BBC news anchoring to the identity of its spectating audience, which could result in a loss of viewers who are discouraged by the scarce appearance of newsreaders in leading roles with whom they share the same ethnicity. This is compounded by an overwhelmingly white stewardship of presenting on BBC Breakfast – one of the BBC's flagship news broadcasts which achieved a 'daily reach' of 6.8 million (BBC, 2014) – in counting just three newsreaders of ethnic minority, none of whom are black, on a team of ten senior and relief presenters. However, in 2002, BBC Breakfast's presenters were all white, highlighting a minor shift towards greater racial inclusion by 2022. Rather, Creeber's argument (2004: 28-29) that the BBC is 'responsible for producing a form of cultural hegemony that has helped to dictate and form British public opinion and social attitudes' allows us to understand the institution as a device for social control in the UK. The profile of its newsreaders fosters pre-conceived notions of societal roles based on gender and ethnicity, whereby a majority of news is communicated by white presenters who assume greater responsibility as perceived higher ranking members of the British media. In effect, the social importance of the newsreader intersects with self and group perceptions of gender and ethnicity. Just as Tukachinsky states that 'ethnic minorities were historically excluded from positions of power in media industries, with their voices almost entirely absent from mainstream media content', so too were social groups of ethnic minority excluded from the very consumption of news as white newsreaders presented to a narrowing audience of white ethnicity which 'marginalized and alienated ethnic minorities' (2015: 186-187). To combat findings of underrepresentation within the BBC such as in the case of its 2002 news presenting team, the BBC continues to press forward with 'the biggest collective action on increasing representation in BBC content that there's ever been' in the form of the 50:50 Equality Project (BBC, 2022). In this instance, although the BBC has improved the representation of women across BBC news programmes (57% of newsreaders were female in 2022), which includes eight female newsreaders of Asian ethnicity compared to zero in 2002, my research found that Lukwesa Burak, a presenter of BBC News, BBC World News and The Papers, was the only black woman presenting the news across 2002 and 2022 data. This underrepresentation presents barriers between dominant and minority ethnic groups, as well as in self-perceptions of social standing, which complies with Gunter's study of cognitive media effects (1994: 183). In sum, simple media monitoring practices are easily applied to media institutions such as the BBC to offer specific instances of underrepresentation and anticipate the knock-on effects of media in society. On the subject of gender, the BBC now counts a majority of women in the role of newsreader across BBC news programmes, a significant achievement of the institution's practice of self-media monitoring in the 50:50 Equality Project. This evidence presents the case for real-world media monitoring as an effective method of communication study, particularly as 'the media increasingly provide the 'common ground' of information, symbols and ideas for most social groups' which is often to the detriment of positive female representation (Gallagher, 2001: 3). Overall, representation in news reading, coupled with the considerable role of the newsreader as the trusted 'messenger' of information (de Certeau, 1984: 185), introduces key themes of the news and communication industry as an unequal profile of its viewing public with understated effects on social groups.
Section 3: Superior influence of media elites?
In further sections of scholarly communication research, the newsreader is outlined as a mere front to news outlets which promote the invisible existence of a ruling media elite. To study media monitoring is to study the most important sectors of the industry, as noted by Gallagher: 'The numbers tell only a tiny part of the story. Behind them lies a power structure – social, political and economic – in which men are considered to be central and predominant' (2001:6). Indeed, the 'presence' of the newsreader in settings of mass communication (Lull, 2000: 235) may disguise a long-standing sector-wide trend of underrepresentation in positions of media power. For example, the 12-person BBC Board includes only two directors of an ethnic minority, as does the eight-person Executive Committee of the BBC (BBC, 2022). Moreover, the position of BBC director-general has been filled by white men since its inception as the British Broadcasting Corporation in 1927 (BBC, 2022). This is indicative of stark inequality in the gender and race of British media proprietors, which is arguably masked by (albeit slow) progress in representation of newsreaders. While effective processes of self-media monitoring by broadcast news outlets are defined by individual media owners, attention cannot be diverted so sharply from the role of newsreaders as key forces of social influence. The media proprietor is a significant contributory factor to underrepresentation in media institutions, however it is the public-facing position of the newsreader which dictates the formation of public opinion amongst a viewing audience. Tukachinsky (2015: 196) concludes that 'the importance of racial and ethnic representation in mainstream media both for majority and racial/ethnic minority group members' drives public opinion on the self and collective group in the frames of gender and ethnicity, showing that news presenters, as instigating communicators of the 'reality' of mainstream media events, impose images of identity on television.
Conclusion & expectations for the future
Conducted independently and at a basic level of media monitoring, these findings test theories of profound underrepresentation in media with the immediate example of the television newsreader. The importance of the newsreader, particularly that of the BBC – an institution synonymous with British media culture, is visible throughout fields of communication as a significant role within the media industry which also carries considerable influence in exterior environments of group and self-perceptions (Tukachinsky, 2015: 186). This authority over public discussion and thought is a contemporary example of a media effect, which is more transparent with the addition of data in driving discussion of underrepresentation in BBC newsreaders. Although it is argued that the BBC is no longer 'hideously white' as in 2001, existing patterns of shortfalls in its 50:50 Equality Project, whereby the representation of female newsreaders has improved in contrast to black female newsreaders who number just one when comparing 2002 and 2022 data, indicate the requirement for further studies of media monitoring within the BBC. Considering these trends in light of possible future developments in digital media, Creeber concludes that 'what we might gain is a complex multichannel system that better reflects the multicultural society Britain is today' (2004: 35). As this paper shows the presence of inequality in media via the role of the newsreader, in turn directing our opinion of gender and ethnicity, larger bodies of communication research must undertake further studies of media (with better access to data) in order to draw more complete evaluations of the relationship between media representation and public discourse.
Reference list
BBC (2022) "About the BBC", at

bbc.com

(accessed 6 April 2022).
BBC (2014) "BBC beats ITV in latest breakfast TV battle", at

bbc.co.uk

(accessed 6 April 2022).
BBC (2022) "Directors-General – BBC 100", at

bbc.com

(accessed 7 April 2022).
BBC (2022) "Executive Committee – About the BBC", at

bbc.co.uk

(accessed 7 April 2022).
BBC (2022) "50:50 The Equality Project", at

bbc.co.uk

(accessed 7 April 2022).
BBC (2002) "BBC ONE News presenters", at

bbc.co.uk

(accessed 6 April 2022).
Creeber, G. (2004) ""Hideously White": British Television, Glocalization, and National Identity", Television & New Media, 5 (1): 27-39.
de Certeau, M. (1984) The Practice of Everyday Life, California: University of California Press.
Gallagher, M. (2001) Gender Setting: New Agendas for Media Monitoring and Advocacy, London: Zed Books Ltd.
Gunter, B. (1994) "The Question of Media Violence", in J. Bryant and D. Zillmann (eds) Media Effects: Advances in Theory and Research, Hillsdale: Lawrence Erlbaum Associates, pp. 163-211.
Lull, J. (2000) Media, Communication, Culture: A Global Approach, Cambridge: Polity.
Mac Coille, C. (2014) "Good Morning! First the Bad News…Reflections of a "Morning Ireland" Presenter", American Journal of Irish Studies, 11: 31-40.
Ofcom (2021) "News consumption in the UK", at

ofcom.org.uk

(accessed 6 April 2022).
The Guardian (2001) "Dyke: BBC is hideously white", at

theguardian.com

(accessed 5 April 2022).
Tollerton, D.C. (2015) "Multiculturalism, Diversity, and Religious Tolerance in Modern Britain and the BBC's "Merlin"", Arthuriana, 25 (1): 113-127.
Tukachinsky, R. (2015) "Where We Have Been and Where We Can Go From Here: Looking to the Future in Research on Media, Race, and Ethnicity", Journal of Social Issues, 71 (1): 186-199.
Wikipedia (2022) "List of current BBC newsreaders and reporters", at

en.wikipedia.org

(accessed 6 April 2022).